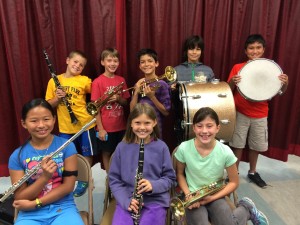 The Banyan Band Program is a parent paid program presented through the cooperative efforts of The Arts Council of the Conejo Valley, CVUSD, and The Conejo Recreation & Park District.
Each student will receive instruction on an instrument of his/her choice (flute, clarinet, alto saxophone, trumpet, trombone, and percussion). Students will be taught to play their instrument, read music and perform together.
---
Downloads
Days & Times
BEGINNING BAND
Mondays & Wednesdays from 7:50 – 8:20 am
Starts September 17, 2018 in the Multipurpose room
ADVANCED BAND
Tuesdays & Thursdays from 7:50 – 8:20 am
Starts September 18, 2018 in the Multipurpose room
Materials & Supplies
View the Music Stores & Supplies page for details.
Important Dates
No class during conference week (October 15-19)
January 30, 2019 – Band/Strings Concert at 6:30 p.m. in the Banyan Multipurpose room
February 4, 2019 – Second session of band starts
May 20, 2019 – All District Band Festival at the Civic Arts Plaza at 7:30 p.m.
Dress for concerts is a plain white shirt and black pants or skirt.